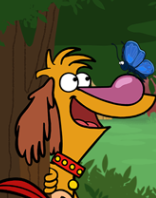 Is the 3rd episode of season 1
Squeeks' cousin Marvin needs big-time help, right away! His marsh home is in danger of flooding! Tally ho! Nature Cat and his pals are called into action to investigate and figure out how to stop the flooding before more animals are forced to leave their marsh homes.
Ad blocker interference detected!
Wikia is a free-to-use site that makes money from advertising. We have a modified experience for viewers using ad blockers

Wikia is not accessible if you've made further modifications. Remove the custom ad blocker rule(s) and the page will load as expected.