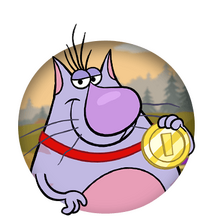 Ronald is Nature Cat's next-door neighbor and arch-enemy. He may be lazy, but is always up for some friendly competition, even if it's against Nature Cat. He likes to lounge in his hammock drinking lemonade or spend the afternoon at the groomers. He is also a DJ and spins at the neighborhood parties and events. He is voiced by Kenan Thompson.
Appearance
Edit
Ronald is an obese dark purple cat with a White underside,, and purple Nutchin, And Light Purple stripes on his back. He Wears a Blue Shorts, White Socks, Peter Shoes
Ad blocker interference detected!
Wikia is a free-to-use site that makes money from advertising. We have a modified experience for viewers using ad blockers

Wikia is not accessible if you've made further modifications. Remove the custom ad blocker rule(s) and the page will load as expected.